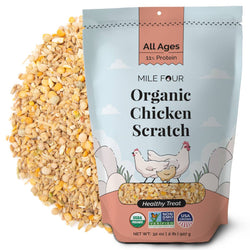 Healthy Chicken Treat: Scratch is like candy & chickens will eat it up & love it! Toss a handful to your chickens & they'll all come running for this healthy treat
All Waterfowl Treat: A healthy & tasty treat for all waterfowl including ducks, swans & geese. Bring scratch to the park & you'll be popular
Chickens go Crazy for Scratch: Your chickens will be as happy as chicken-ly possible with their scratch
Scratch is a delicious & healthy treat your flock will go crazy for!
This 4-grain scratch consists of wheat (40%), oats (30%), barley (15%), corn (15%) - (11% protein and 5.5% fiber).
100% of our grains are grown in the US, Certified Organic, Certified Non-GMO & consist of unprocessed whole grains.
Chicken scratch is a treat (like candy) for chickens & should not consist of more than 10% of any chickens diet. Laying hens eat about 8 lbs. of chicken feed per month so 1 lb. of scratch is the rule of thumb.
Scatter our scratch on the ground for your flock to peck at. It can be used as a treat, a boost to warm them up in the cold winter, or as a way to get them back in the coop at night.
Made with: 100% US grown, ethically sourced from local family farms, organic, Non-GMO, wheat, oats, barley & corn.
Made without: GMO, foreign grains or any other shady, cheap mass produced items.
Guaranteed Analysis:
Wheat (40%), oats (30%), barley (15%), corn (15%).
Crude Protein: 11% min
Crude Fat: 5.5% min
Ingredients
Organic oats, organic wheat, organic barley, organic corn.
Feeding tips?
How does the subscription work?
Subscribers save 5% on every order, forever! Choose frequency (weekly, monthly, quarterly) —whatever floats your coop. Change frequency & quantity or cancel at any time.
Is this suitable for ducks, geese & waterfowl?
Yes! They love it.
Why do my feed orders look a little different?
100% of ingredients are Certified Organic & Certified Non-GMO so much like organic apples at the grocery store, grain size & color vary a little. All ingredients are exactly the same each time we mill but the color & size may look a little different. If you'd like uniformity of color, mash or pellet is the way to go as the grains are finely ground but whole grains may look a little different - as is mother nature's way.
Transitioning Feeds
Whether transitioning from starter to grower, or switching feed brands, it's important to slowly transition so their stomachs have time to adjust.